All Roads Lead to the Exceptional…
Abbeyfeale
Cosily tucked into the foothills of the Mullaghareirk Mountains, in the South West of Ireland, Abbeyfeale is situated on the River Feale – surrounded by soft open countryside and picture-perfect farmland.
An historic Irish market town, Abbeyfeale is located 21 km (13 miles) from Newcastle West on the main N21 Route from Limerick to Tralee.
A town steeped in history and heritage, Abbeyfeale has several key attractions, including an award-winning family park, excellent walks and the Great Southern Greenway. The town is a busy shopping centre with several local independent stores together with a good choice of restaurants, pubs and cafes.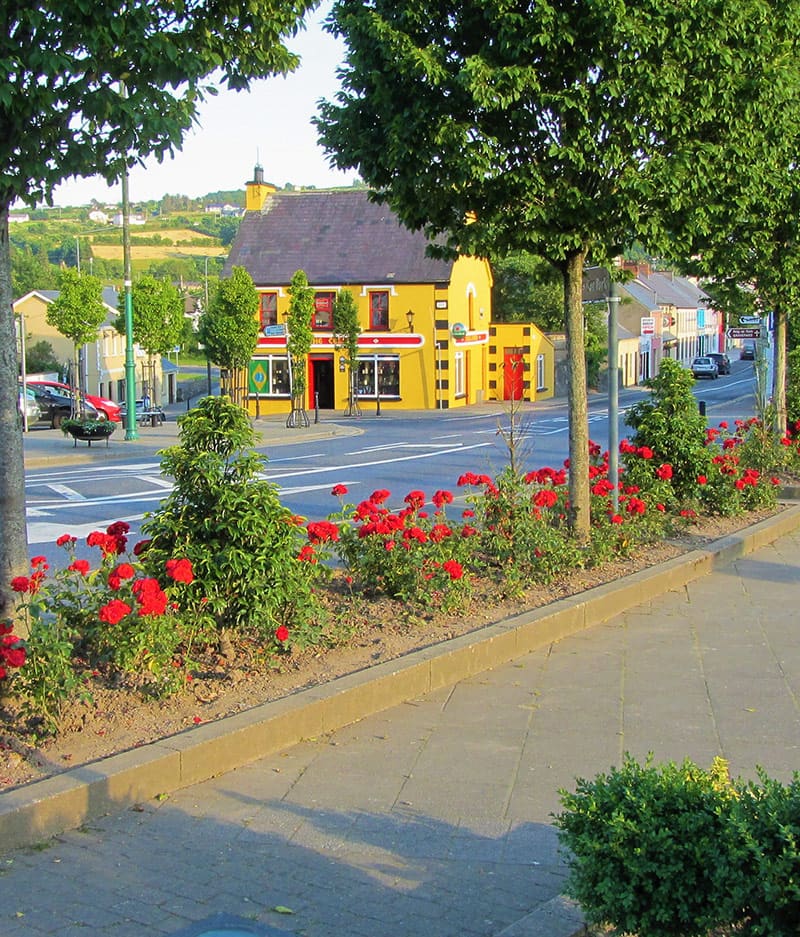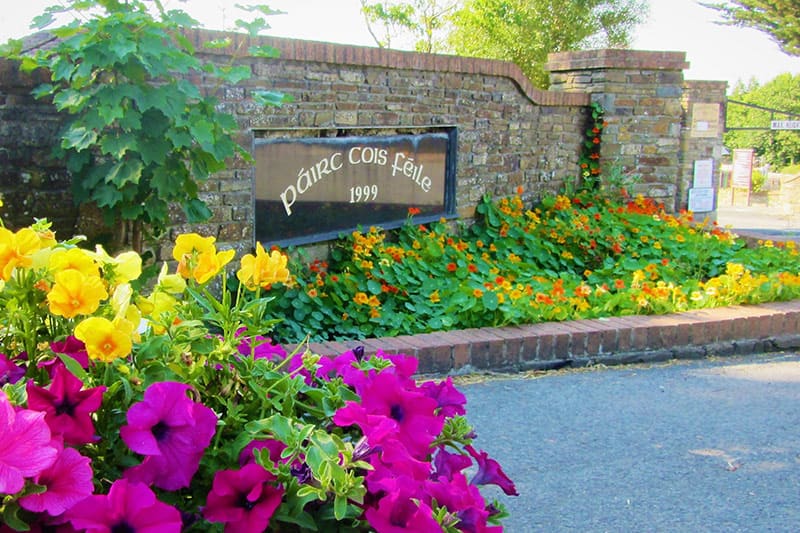 Abbeyfeale Town Park
1 min from the Lodge (220 m)
This beautiful multi-award-winning park is right across the road from the Lodge (it's our namesake!) and you'll love spending time here – following the meandering walkways along the river bank, feeding the ducks, enjoying a bike ride, or just relaxing and loving the views of the magnificent countryside. The 30-acre park is home to a wide variety of wildlife, flora and fauna, and is International Green Flag accredited. There is also an outdoor gym, Summer Sensory Garden, woodland area, pond area, picnic area and public facilities. The kids will love the two playgrounds – plus there's a basketball court and all-weather mini-pitch. The park is open daily.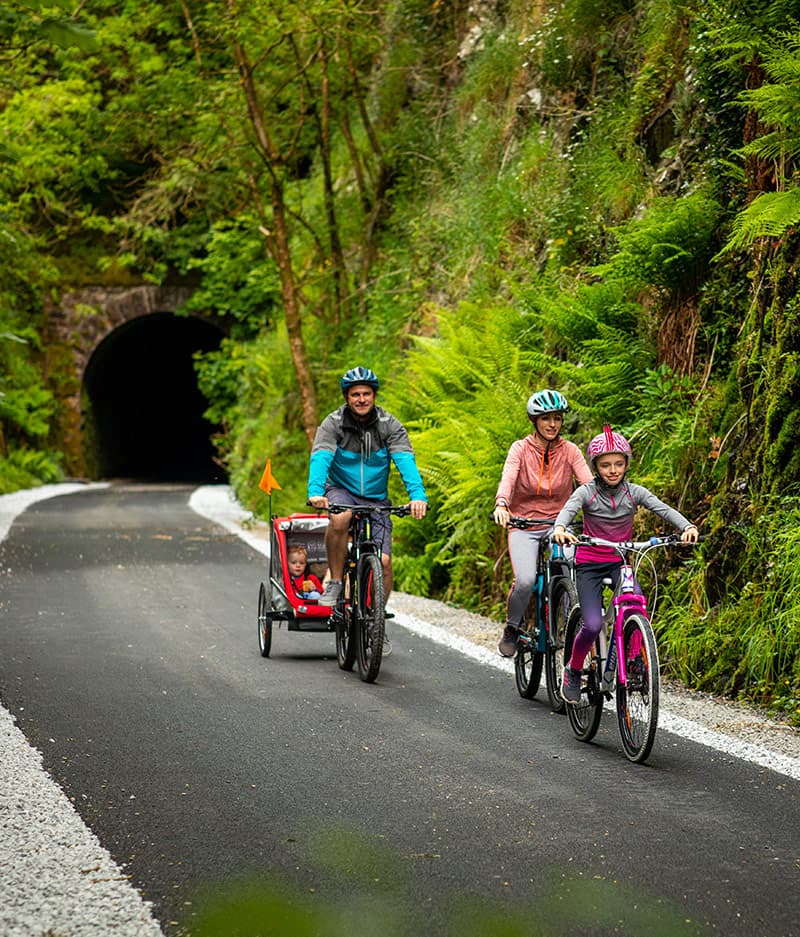 Limerick Greenway –
Abbeyfeale Entrance
5 mins from the Lodge (2.8 km)
You won't want to miss this 40 km greenway path through the achingly beautiful Limerick countryside. Whether you choose to bike, walk or run, you'll find it's the perfect way to get to know the rural beauty of West Limerick. Following the old Limerick to Kerry railway line, the Limerick Greenway inks towns and villages and features some of the country's most historic sites – with plenty to see and do.
You can access the beautiful Limerick Greenway via a pleasant 10-minute bike ride from Park Lodge. We can arrange for bikes to be dropped at the house by Like Bikes. Alternatively, Locomotion Bike Rental located at the Barnagh Greenway Hub, or Limerick Greenway Bike Hire situated at the Greenway entry point are waiting to get you sorted with rental bikes. There's everything from step-through bikes to electric duo bikes and bikes for kids, plus child bike trailers. You can even hire a tandem!
The Greenway has several entry points, so you can do as little or as much of it as you like. It's what morning runs, lazy walks and family adventures are made for!
Crag Cave
15 mins from Abbeyfeale (19.3 km)
Get ready to discover Ireland's most exciting show cave in Castleisland, Kerry. Believed to be over 1 million years old, Crag Cave is a hidden wonderland of mighty stalagmites and stalactites. The cave was once filled with water, which eroded the limestone rock into a maze of beautiful carved tunnels, chambers and complex passages. Truly fascinating to experience! Be sure to pack in the fun too at the Crazy Cave Activity Centre – County Kerry's number 1 house of fun featuring a mega slide, indoor sports court, climbing frame, rope bridge and a whole lot more!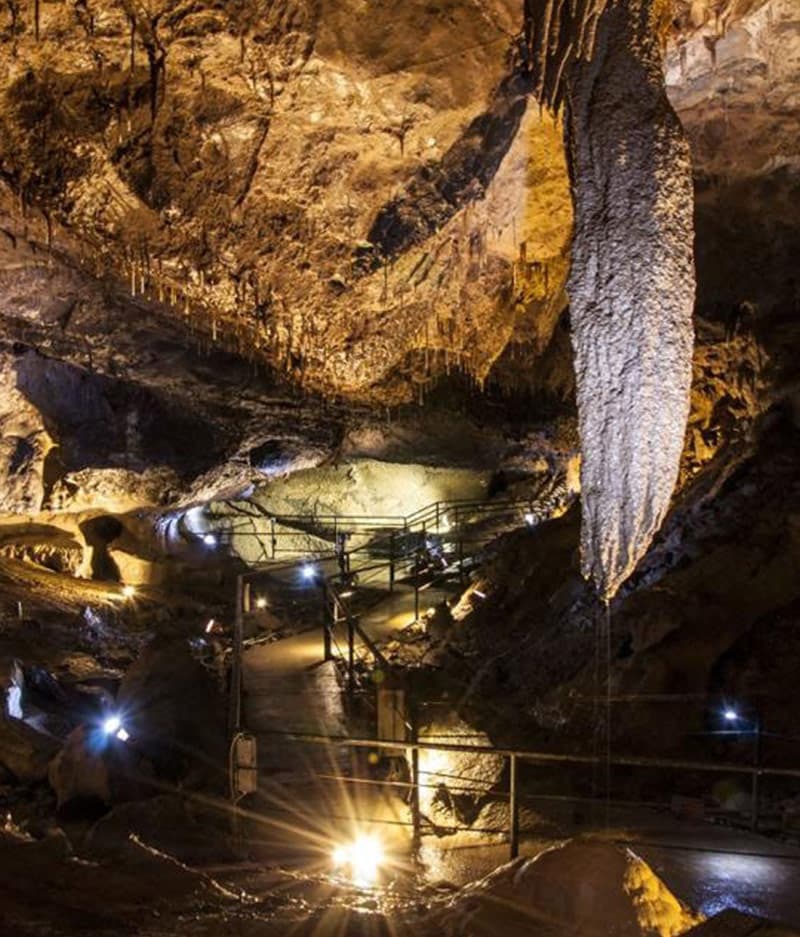 A little further afield
Beautiful beaches
Nothing says holiday quite like a day at the beach, and from Abbeyfeale you're perfectly placed to explore some of the best beaches Ireland has to offer:
31 mins from Abbeyfeale (31.3 km)
Both the north and south beaches at Ballybunion are Blue Flag beaches and the Ladies' Beach is Ireland's ninth most popular beach on TripAdvisor. These beaches are just made for walking, swimming, surfing and a host of other water sports. Picture-perfect, they feature high cliffs, sweeping sand dunes, a fairy-tale castle and caves you can explore at low tide. Nowhere does sunsets quite like Ballybunion – and you can even have a seaweed bath!
41 mins from Abbeyfeale (43.2 km)
What a beach! Stunning and clean, vast and breath taking, Ballyheigue is a sandy beach looking out over Tralee Bay. Swimming, water sport and walking is first class here: this is a gentle shelving beach so it's ideal for everyone to take a dip. Take a fabulous 5 km walk to the Black Rock and clamber up it – you'll be rewarded by the most incredible views. The beach is also ideally placed for accommodation, restaurants, shops and amenities.
36 mins from Abbeyfeale (36.0 km)
A Kerry Wild Atlantic Way Discovery Point, Beale Strand stretches for over 3 km along the Shannon estuary and is perfect for a long and blissful walk. There are plenty of sand dunes offering excellent bird watching opportunities, while sea angling is also popular here. Please note – there are extremely fast currents at Beale making it dangerous to swim here.
.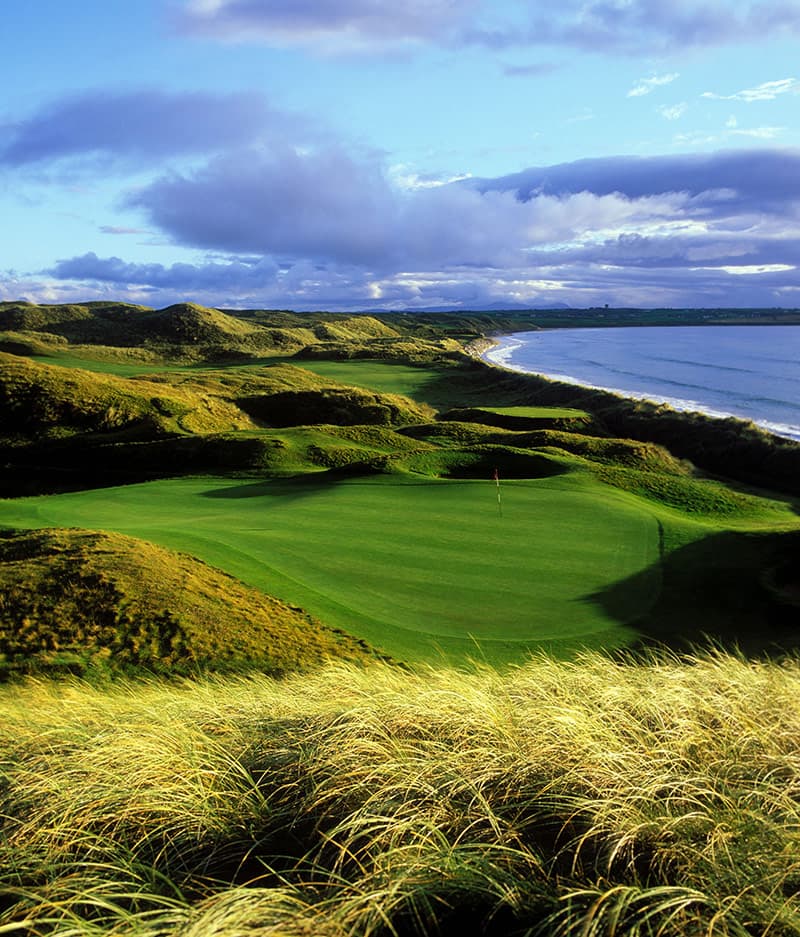 Ballybunion Golf Club
33 mins from Abbeyfeale (32 km)
If golf is bringing you to our region, head to the beautiful Ballybunion Golf Club – a world-class links on the north-west coast of County Kerry. Situated on a gorgeous stretch of grassy sand dunes with softly-folding fairways and looking out at the wild Atlantic Ocean, there are two links golf courses – the Old Course and the Trent Jones Cashen Course. Both are plenty challenging, and with the stunning scenery as your backdrop, every game is as rewarding as it is thrilling
Adare Manor/Adare Golf Club
44 mins from Abbeyfeale (45 km)
'A lavish experience' sums up a visit to Adare Manor – a magnificent manor house in picturesque Adare, County Limerick and once the family seat of the Earls of Dunraven. The Manor is home to the 5-Star luxury Adare Manor Hotel and Golf Resort, with the Michelin-starred Oak Room Restaurant, 840 acres of pristine parkland and a world-class health spa. The 13th Century village of Adare is a popular tourist spot and known as Ireland's Prettiest Village, complete with ancient, thatched cottages, fine boutiques and a choice of excellent restaurants and cafes.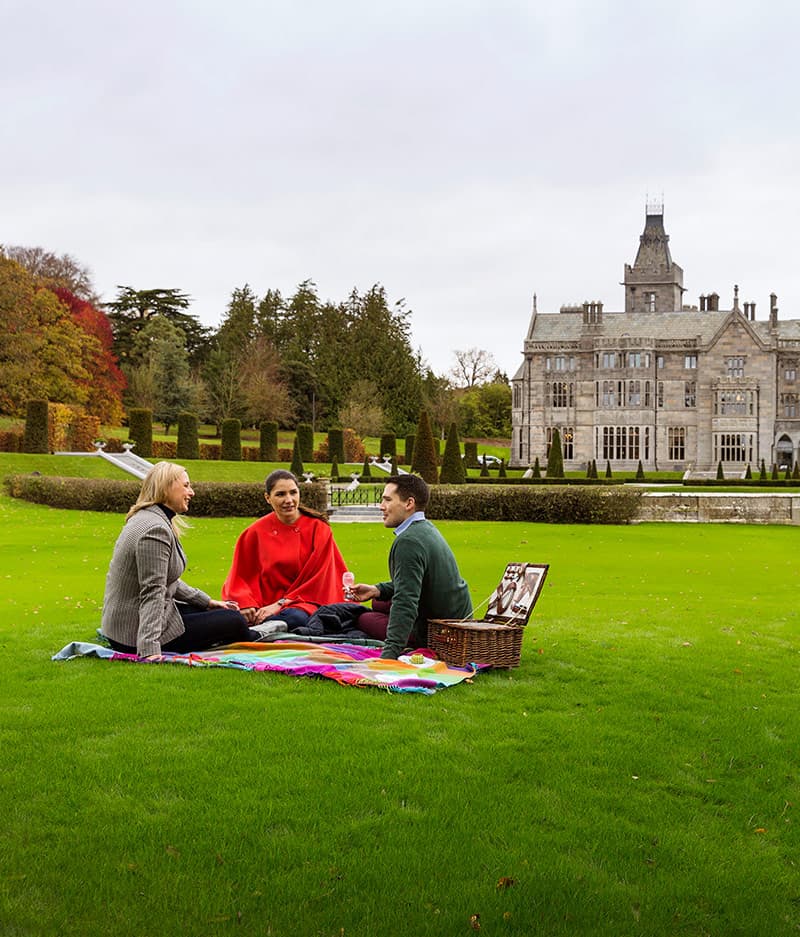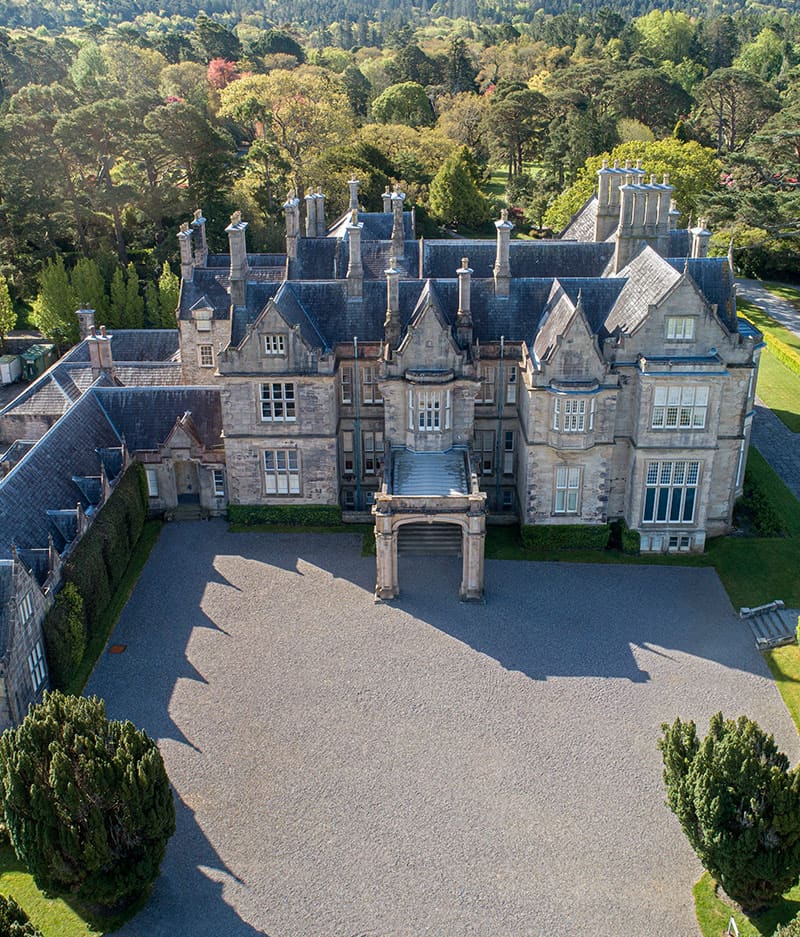 Killarney and Muckross House
45 mins from Abbeyfeale (48.0 km)
Killarney is an elegant and vibrant 'little' town, surrounded by beautiful countryside, brimming with history and offering world-class hospitality. Some of the area's natural highlights include the Lakes of Killarney, Purple Mountain, the Gap of Dunloe and Torc Waterfall, while St Mary's Cathedral and Ross Castle are heritage sites you won't want to miss. A highlight of the town is the beautiful and famous Muckross House with its 15th Century abbey ruins, beautiful gardens and massive yew tree.
Kenmare
1 hr 19 mins from Abbeyfeale (89.8 km)
With a name that means 'little nest', Kenmare is a delightful haven of calm in the heart of Kenmare Bay – offering exceptional scenery, a picturesque town centre and beautiful surrounds. It is recognised as one of the most natural, unspoilt environments in Europe. You'll find Kenmare is the perfect place from which to explore the South West of Ireland, which links the world-famous Ring of Kerry with the rugged Ring of Beara. The town is also admired for its gourmet food, quality accommodation, premium golf courses, riding, trekking shopping and culture.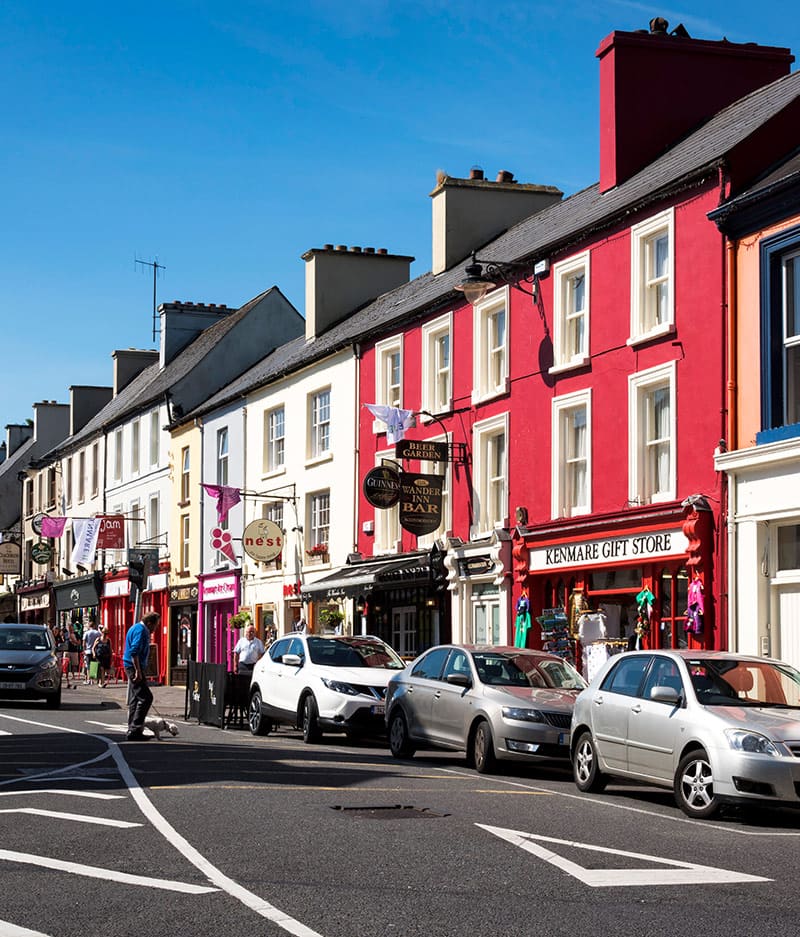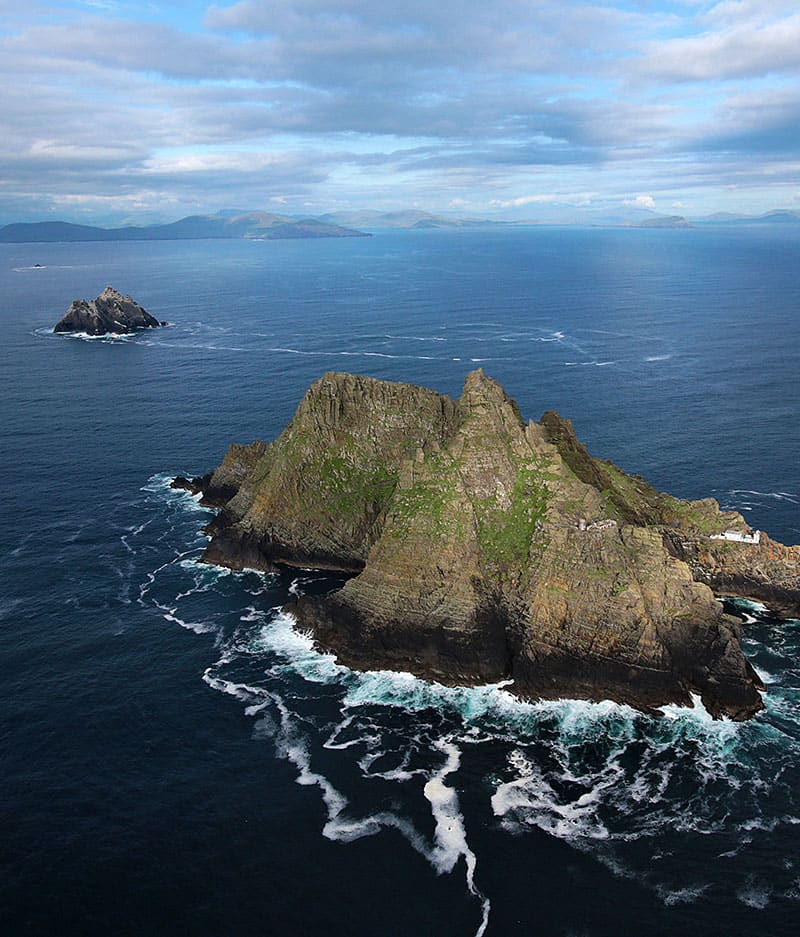 Skellig Michael via Portmagee
1 hr 33 mins from Abbeyfeale (108.8 km)
Hauntingly beautiful Skellig Michael is a twin-pinnacled island west of the Iveragh Peninsula in County Kerry and one of only two UNESCO World Heritage Sites in the Republic of Ireland. The awe-inspiring rock is home to St Fionan's monastery which dates to the 6th century. A true bucket list trip, you can take boat to the island from Portmagee, choosing to either sail around the Skelligs or land on it and climb the 618 steps to the top. Birdlife on the island is incredible, while scenes from the latest Star Wars trilogy were filmed here.
Ring of Kerry
1 hr 42 mins from Abbeyfeale (93.9 km)
Stretching a magnificent 179 km, the Ring of Kerry is a remarkable scenic drive around the Iveragh Peninsula in southwest Ireland's County Kerry. Much more than just a route, it takes you through 10 000 years of Irish history and combines the very best of the country's wild beauty in one incomparable drive. Go from rugged mountain to lush coastal landscapes, from cosy rural seaside villages to deep forests and the crashing waves of the Atlantic. The Ring of Kerry is about green hills that stretch on forever, sunkissed lakes and golden strands – and it's the heart and soul of every Irish adventure.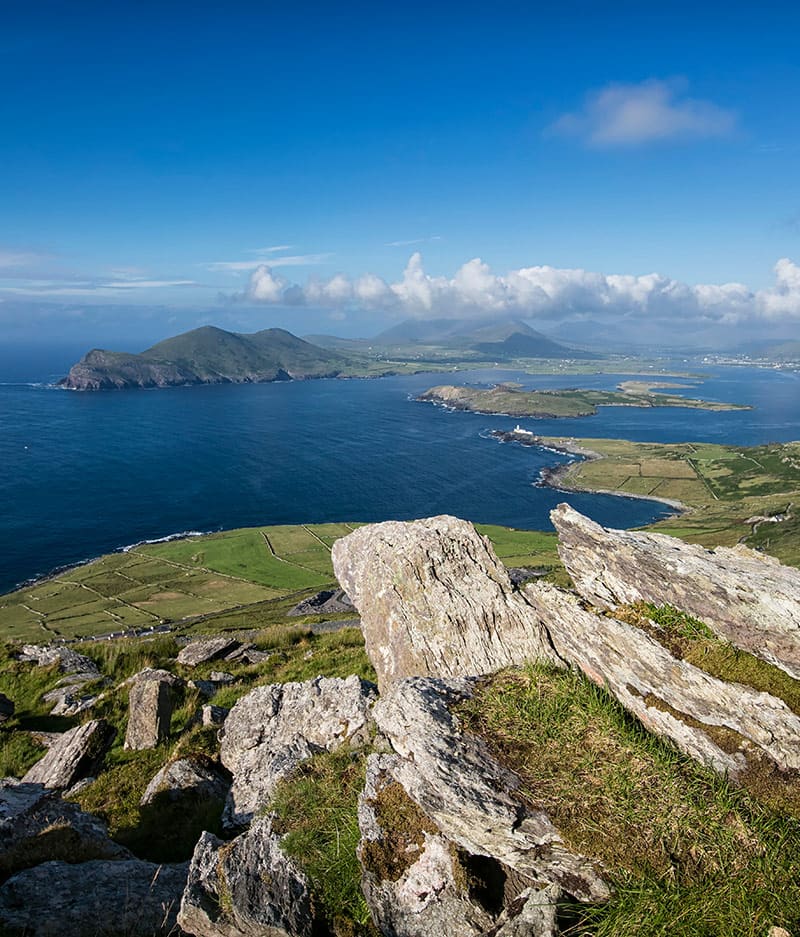 Blasket Island via Dingle
1 hr 12 mins from Abbeyfeale (85.6 km)
A remote island off the Dingle Peninsula, Blasket Island treats you to over 1,100 acres of unspoiled mountainous terrain and is a Special Area of Conservation. To sail here is to enjoy a uniquely Irish experience as you discover an abundance of wildlife, ancient history and island life. Take one of the Blasket Island boat tours or choose to stay overnight at one of the island's cottages.